4/15/2018 – Potluck & 1st session
of "21st Century Quakerism"
April 15 @ 11:30 am

-

2:00 pm
21st Century Quakerism is our "homegrown" revision of the Quakerism 101: a basic course for adults curriculum developed by Philadelphia Yearly Meeting created by Shirley Dodson in 1992 and revised by PYM in 1998.
Our first monthly 2-hour session will begin at noon on April 15th, following a potluck lunch, @ Florida Christian Center, 1115 Edgewood Ave. S., Jacksonville, FL 32205 + Google Map.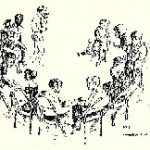 This adult series for Quakers and those curious about Quakerism  offers discussions and first-hand experiences to help each of us explore what Quaker worship and practice are like for ourselves.
Elaine Martin (previous clerk) and Mike Shell (present clerk) are combining the original curriculum with their study of Rex Ambler's The Quaker Way: a rediscovery (2013) and other resources.
Description
Each session will have some reading in advance. The sessions will combine guided discussions based on the readings with group sharing of personal insights and experience.  To nurture this process, we will experiment with two traditional Quaker tools:
Queries are questions used  for personal reflection, self-examination, or spirited discussion.  They invite us to examine certain concerns in the light of our own convictions and life experiences.
Worship sharing is an opportunity for small groups to deepen their understanding of life in the Spirit and get to know each other on a deeper level, through listening to each other's experiences and insights in a worship-grounded setting.
Schedule
Session 1 on April 15th – Introduction to the series, to the resources, and to each other.
Session 2 on May 20th – The origins of the Quaker quest in 17th century England and how that quest continues now.
Jacksonville Friends have about a dozen copies of Ambler's book for those who wish to donate something toward their cost.  We will also have most of the readings in printable PDF format.
Please contact the meeting clerk, Mike Shell bright_crow@mindspring.com,  if you plan to attend and/or want more information.