Potluck & Session 3 of "21st Century Quakerism"- 6/24/2018
June 24, 2018 @ 12:30 pm

-

2:30 pm
Join us at the Florida Christian Center, 1115 Edgewood Ave. S., Jacksonville, FL 32205
+ Google Map

10:30-11:30am – Worship

12:00-12:30pm – Potluck lunch

12:30-2:30pm- Session 3 of "21st Century Quakerism"
We will discuss "Looking for God," Chapter 2 of Ambler's The Quaker Way, and the Quaker experience often called the Light Within.  (We still have copies of Ambler's book for those who need one).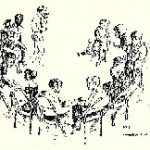 21st Century Quakerism is our "homegrown" update of the Quakerism 101: a basic course for adults curriculum developed by Philadelphia Yearly Meeting (1992; 1998).
Rex Ambler's The Quaker Way: a rediscovery (2013) is our primary source for bringing the study series into the 21st century.
This adult series for Quakers and those curious about Quakerism  offers discussions and first-hand experiences to help each of us explore what Quaker worship and practice are like for ourselves.