Session 5 of "21st Century Quakerism" (aka "Q101.21") begins at 12:30pm on Sunday, August 19th, following meeting for worship at 10:30am and potluck at 11:30am.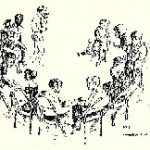 Q101.21 is maturing into a friendly, self-sustaining adult study group.  We welcome newcomers, and we help returning folks to "catch up" even if they have missed several sessions.
We use Rex Ambler's The Quaker Way: a rediscovery (2013) as our primary source, but this is a not a "course" or "book study" in the traditional sense. Instead, we use group activities to inspire discussion and sharing.
Each session gives us first-hand experience of what it is like to do worship and community in the Quaker way.
Homework for August 19th
Read Chapter 3 (see Chapter 3: Meeting Others – Chapter Notes & Excerpts)
If you wish and have the time:

Review Chapter 2 of Ambler (Chapter 2: Looking for God – Chapter Notes & Excerpts)
Review Handout 4.1 – The "God-shaped Hole" and its queries

What are some of the ways you talk to yourself about your personal experience of "the God-shaped hole" and what you feel fills it?
How do you talk to others about these matters?

Review Handout 4.2 – The "What Now?" and its queries

What are some "poetical" ways you might describe what you already trust about reality?
What helps you to feel and accept this trustworthiness?
You are welcome to join us for any or all of these events.
Please let clerk Mike Shell know whether you are likely to attend.