Last year, long-time Jacksonville Friend Al Geiger made an increment boring from the old pine tree near the Florida Christian Center activities center.
The tree is approximately 155 years old, plus or minus 4%, surprisingly young for a tree 29 inches in diameter.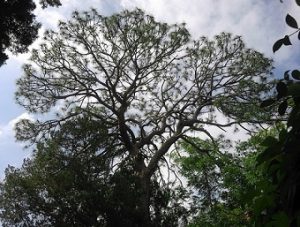 A tree of that age out where Al lives near Dunn Avenue and I-295 would be considerably smaller, because it would have been burned almost every year when it was young. Burned by lightning if not by people.
This tree however had better growing conditions when it was young. Seed sprouted around 1861.
The Forest Service came into being during the 1920s and didn't start putting out forest fires until about 1930.